For some countries, particularly in Africa, managing these immense and often isolated spaces turns out to be illusory as their budgetary and human resources are structurally insufficient.
The deployment of a network of protected areas remains today the main tool available to States for developing policies aimed at reversing the curve of biodiversity decline.
Identify territories with strong ecological challenges and give them a more or less restrictive protection status is not new.
In 1960,, there were about 10 protected areas covering about 000 km2. In 2010, the IUCN Database of Protected Areas (WDPA) listed 177 areas with conservation status over 17 million km2 of land mass (12,7% of continents and islands, excluding Antarctica) and 6 million km2 in the oceans and coasts (1,6% of their surface).
In 2021, 16,6% of land and inland aquatic ecosystems will have conservation status, compared to 7,7% for maritime and coastal environments.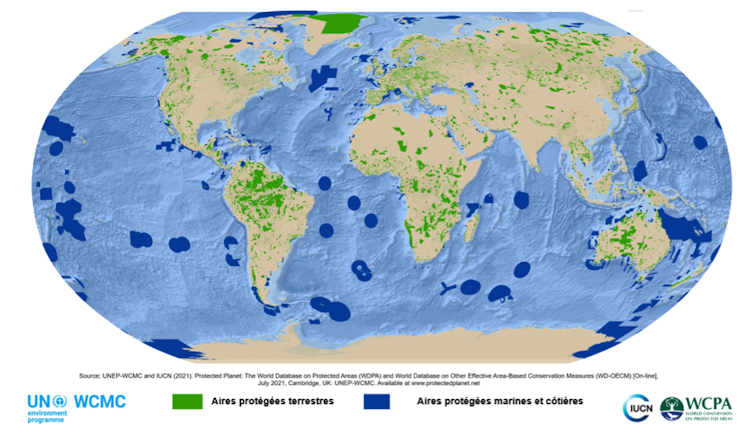 It is up to each State to build its strategy
Each country adopts its own national strategy for the delimitation of its protected areas. In doing so, the denominations and levels of protection of biodiversity can fluctuate greatly from one country to another.
In order to be able to assess the effectiveness of protected areas on the conservation of biodiversity, the IUCN proposes a classification according to the level of protection they provide. Of the 6 classes proposed, the first 3 (strict nature reserve/wilderness area, national park and natural monument) imply that national legislation must provide for an exclusion of all human action apart from certain tourist activities.
The first class even implies a very strict limitation of entries into the area, often exclusively for the purposes of scientific studies. The other three classes (Habitat/Species Management Area, Protected Landscape/Seascape, and Protected Resource Management Area), include areas where biodiversity conservation is ensured through regulated natural resource use practices in order to ensure its sustainability (agriculture, town planning, collections, hunting).
Thus, each State can build its own strategy according to its legislative, social, economic and ecological constraints, while ensuring that it respects the orientations of the Convention on Biological Bioversity (CBD), ratified by 196 countries.
The central question of the size of protected areas
Building a national network of protected areas depends on many factors such as the representativeness of the diversity of ecosystems, the endemism and/or the conservation status of species, the interactions with other modes of land use, the symbolic dimension and heritage of certain spaces or, sometimes, species, the institutional and financial means of the country...
However, a large number of historic protected areas have been delineated based on paradigms of island ecology, theorizing the minimum size of a population and the diversity of a community to ensure the proper functioning of the ecosystem.
Seen in this light, the geometry, especially the size and shape of protected areas have often been decisive elements of choice.
Especially since the Aichi objectives, resulting from the Convention on Biological Diversity, emphasize the minimum surface area in protected areas that the signatory countries undertake to classify. Set at 17% for 2020, it will be revised to 30% by 2030 during the next negotiations (COP15), regularly postponed due to the pandemic.
Even if the international community agrees that the surface area of ​​protected areas is not the only indicator making it possible to ensure the effectiveness of biodiversity conservation policies, it is widely used and drives the assessment of countries in terms of willingness to contribute to the global fight against the erosion of biodiversity.
It therefore seems relevant to ask whether this indicator has not, in certain cases, had a negative effect on the ability of States to put in place a coherent and appropriate policy for the conservation and management of their ecological heritage.
Double-edged initiatives in poor countries
Why this seemingly irreverent question? Manage a protected area costs more and more. Setting up economic activities that would allow this territory to play its role in the national economy can become a real burden, even an insurmountable task for some countries that are already struggling to organize access to essential services for their population.
Although not all protected areas imply a total exclusion of human activities, notably agriculture or the collection of natural resources, they remain a real obstacle to development certain activities considered to be the most destructive (mining, heavy infrastructure, cities, intensive agriculture, etc.), but which are also those which could potentially be the most beneficial to the development of the poorest countries.
Beyond the costs of managing and enhancing these spaces, the conflicts of use resulting from socio-economic arbitrations in favor of the conservation of biodiversity can come to contradict the imperatives of local development on large national spaces, even deny the cultural and traditional dimension of these ecosystems.
These ambiguities are particularly salient in the least developed countries in the tropics. International pressure for them to meet protected area area targets is maximum, as they host a large proportion of biodiversity hotspots.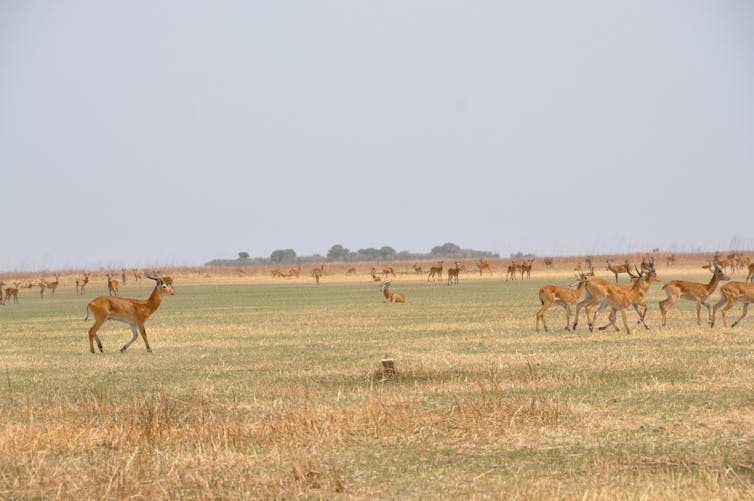 In Africa, tens of thousands of km² to manage
For some countries, effectively managing these immense and often isolated spaces turns out to be totally illusory as their budgetary and human resources are structurally insufficient.
This is particularly the case on the African continent. Despite this complex equation, the sub-Saharan zone has achieved the Aichi targets, with 16,4% of classified territories in protected areas. Even better, half of these countries have a protected area coverage rate higher than the overall rate. Seven of them, including the Central African Republic, one of the poorest countries on the planet, have even already reached the goal which will be set for 2030.
At the same time, the continent's Human Development Indexes (HDI) are among the lowest. Apart from three countries (South Africa, Botswana and Gabon), all states have an HDI indicating medium to low human development. While some countries in Southern and Eastern Africa have succeeded in promoting their protected areas, this is not the case in Central Africa where, apart from the sport hunting sector, economic opportunities are almost non-existent or very localized. .
Between difficulty of access, regional insecurity and lack of capital to invest, the tourism sector has never managed to really break through. Worse, probably a historical reflection in the collective imagination of large wild spaces, Africa (and particularly Central Africa) organizes its network of protected areas around huge areas whose surface is dizzying.
Over 20% of protected areas more than 10 km2 are found in Africa. The Manovo-Gounda St Floris and Bamingui Bangoran parks, forming part of the complex of protected areas in the north of the Central African Republic, alone cover more than 28 km2, the size of Belgium.
In total, according to our calculations, it is more than 42 km2 which have conservation status, almost half the area of ​​the two northern prefectures of the CAR.
The Battle of the Herbivores
In this context, is it reasonable to impose a conservation model based on a minimum area to be protected?
The Afrobiodrivers project has enabled the analysis of wildlife inventory data in the main savannah protected areas of Central Africa showing that these vast territories have gradually been emptied of their large herbivores. Outside Zakouma National Park in Chad, herbivore biomass has been divided by a factor of 2, 3 or even 4 over the last 50 years.
To some national parks, wildlife finds itself isolated in small pockets of biodiversity, with a few hundred or thousands of individuals as a remnant of once prosperous communities that could have had several hundred thousand individuals 60 or 70 years ago.
At the same time, the tourist activity associated with these spaces has also been drastically reduced, mortgaging the main way of valuing wildlife so that States can finance rural development and assume its responsibility in the management of these areas.
The observation is therefore clear: these areas once considered the archetype of a wild Africa, rich in biological and cultural diversity, are now almost emptied of their emblematic wild animals, giving way to armed groups or breeders. The inversion of the biomass of wild herbivores in favor of domestic herbivores has become the norm in almost all the protected areas of the Central African savannahs.
Set up a "strategic retreat"
We offer a "strategic retirement" option to concentrate the few means of these States on the residual pockets of biodiversity in order to be able to conserve them effectively.
Strategic retreat does not imply abandoning or downgrading these mythical protected areas. Areas devoid of wildlife must be managed with new conservation tools, in particular AMCEs, in order to define a land use zoning more in line with the current situation and the means available; in order to also ensure that these lost territories will be able, in the future, to find a potential of valorization resulting from the nuclei effectively preserved during the strategic retreat.
This model of concentrating resources on a smaller area, but nevertheless sufficient and above all, more realistic, then expanding the fauna over a larger territory seems to work in Zakouma National Park (Chad).
Beyond the dusting off of biodiversity conservation models, the international community, if it wishes to impose global objectives based on surface area, must be aware of the investment effort that this imposes on the poorest countries.
In particular, it must take head on the issue of regional security in the savannahs of Central Africa so that these States can find a situation conducive to these investments, without despoiling their identity and their sovereignty.
---
Pierre-Cyril Renaud, Lecturer – Management of Protected Areas and agriculture/biodiversity interfaces, University of Angers; Herve Fritz, CNRS / IRL REHABS research director, ecology of tropical savannahs, Nelson Mandela University, and Paul Scholte, Ecologist leading programs and organizations in conservation, Ohio State University
This article is republished from The Conversation under Creative Commons license. Read theoriginal article.