Between prolonged schooling and learning a trade, the choice of certain rural households in southern Benin for the future of their children often falls on the second option.
In Benin, working-class households in rural areas have great difficulty keeping their children in school. Some of the children in these areas are led to leave the school system before the end of primary school or from the first years of college, even when their school results are good.
Despite various policy measures taken since the 1990s by successive governments to improve the quality of school provision and universal access to basic education, the country has seen the proportion of students completing primary school go from 85% in 2016 to 68% in 2019, before rising to 77% in 2021.
Compulsory education for all children between five and eleven, decreed in 2006, has never been fully implemented. In addition, in 2015, 35,17% of pupils who completed the primary cycle dropped out of school at that time.
In rural areas, this phenomenon is even more marked, because for poor households, it is often very complicated to support the cost of a long period of schooling, and children appear as a potential labor force: it may seem more rational for them to learn a manual trade as quickly as possible rather than sending them to continue their education. Admittedly, the rural working classes are not homogeneous: some parents want their children to pursue a good education up to university and do their best to do so. However, it is among poor rural households that school dropout is most pronounced.
In this article, I examine the conditions in which children leave school before the end of the primary cycle or from the first years of secondary school in the rural district of Tanvè (in the south of Benin) where I carry out surveys of field for five years now. How to explain that children who regularly have good grades at school stop their schooling to learn a trade? What jobs are involved, how is the training going and what are the prospects for the children involved?
Keeping children in school is a tough decision
Regardless of whether they come from a very poor background, some children progress well during their course in primary school, regularly occupying a good place in the school ranking. Nevertheless, they sometimes fail the national examination for the primary school certificate (CEP), taken at the end of the primary school cycle. As trivial as it may seem, this failure can have major repercussions on subsequent education.
Indeed, in a context of economic precariousness, where the purpose of schooling is not necessarily to accumulate diplomas that they no longer guarantee access to salaried work, the slightest hiccup in the school career becomes an argument for stopping school.
[Nearly 80 readers trust The Conversation newsletter to better understand the world's major issues. Subscribe today]
This can be seen in households living off agricultural work, whose income is seasonal, and therefore precarious. This context adds difficulty to keeping children in school, especially when the number of dependent children is high. This is the case of Sylvain, aged 19 in 2021 at the time of our meeting, second child of nine siblings and having lived with his two farmer parents during his schooling. His father remembers with pride the excellent academic results of his son, who was even the best student in his CM2 class:
"We were in the fields, and the news arrived. His comrades said: it's Sylvain! Sylvain is the first in the class! We didn't know anything about it at the time; if they hadn't come to announce that, we wouldn't have known that the results had arrived. »
Despite his progress throughout the school year, he fails the national CEP exam. Repeating years is not welcomed by some parents, because it implies a fruitless investment for households already characterized by a certain precariousness. In fact, the measure of free primary school introduced in 2006 does not spare parents all of the burdens associated with school life.
So after this experience, Sylvain – then 13 years old – decided together with his father to go on an apprenticeship in masonry. This training, like many other training courses for manual trades, has the advantage of allowing young people to emancipate themselves quickly. Indeed, they receive remuneration during the construction contracts to meet their daily needs while, during the weekends, they do small repair jobs here and there, thanks to the skills they have acquired, in order to earn money for their own account.
By the time I meet Sylvain in 2021, he has completed his four years of apprenticeship and is awaiting his diploma. The relatively short duration of training – between three and six years depending on the field chosen – is the other factor that motivates decisions related to learning a manual trade. The investment is therefore less costly and the entry into the labor market faster.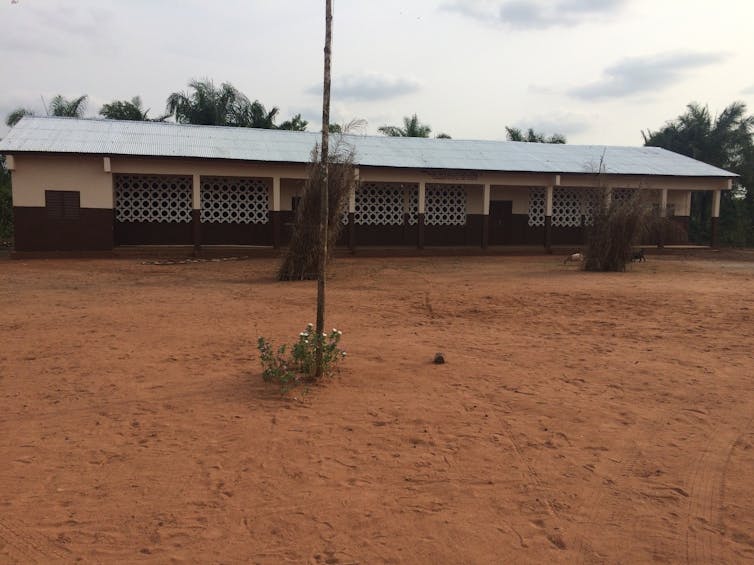 If it is difficult for households where both parents are present to keep their children in school, it is even more so for households headed by a single woman, because work on poverty in Benin showed that the low level of education, the sector of activity (informal) and the size of the household increase the risk of poverty for female heads of households in rural areas.
Judi's mother finds herself in this situation. She is a woman in her forties, who has never been to school. She is a widow from a first marriage. Judi is one of the children of this first marriage. Her mother remarried and had three more children, but is now separated from her husband. Four children, including Judi, live with her full time, and it is on her that their charge rests. She has a small business making artisanal soy cheese, but struggles to make ends meet.
Despite these family difficulties, Judi brilliantly passed her CEP at the age of 13. He then began his sixth year in college and obtained at the end of this year an overall average of 14/20. However, he stopped school shortly after (in 2021) and began a masonry apprenticeship, like Sylvain. For his mother, the cost of a long schooling is unbearable, especially since she is not sure that her son will find work later. The question of financing prolonged schooling is a crucial problem for female heads of households, whose resources are not substantial, and who cannot plan such support over a long period with their meager income.
The analysis of these two cases shows on the one hand that in these precarious environments, repetition can have radical consequences on schooling and, on the other hand, that long studies are sometimes incompatible with household income, whereas the relatively short duration of apprenticeships in manual trades makes them more attractive. Moreover, for some young people, apprenticeship is the best option because the knowledge imparted at school is too theoretical in their eyes.
At school, too theoretical knowledge
The advantage of learning for young people is that it is a hands-on activity, which allows you to create and feel what you do. During the apprenticeship, young people develop a representation of social success based on a form of anti-school culture. A young seamstress explained to me the reasons why she opted for an apprenticeship:
"When you go to school, you don't really know what you're learning, or what you're going to do with it. However, when you learn a trade, you know where you are, and what you are capable of doing. »
This need to acquire practical knowledge in order to be able to do something with it immediately is widely shared by young people from these backgrounds. Some are quickly invited to work with infrastructure construction teams in the village. For example, several young local masons and carpenters were involved in the recent construction of the village's second public school. Seeing their children working for the village is a source of pride for the parents, and a source of a sense of success and accomplishment for these young people.
In short, the difficulties related to the financing of an education that is prolonged, the difficulty in appropriating knowledge that is too theoretical at school and the fear of postponing the beginning of autonomy produce a distance in relation to the classic figures of success, in favor of an apprenticeship in a manual trade which guarantees rapid professional integration and personal autonomy.
Have educational capital to learn a trade
Before going on apprenticeship in a manual trade, the young people mentioned above went through school. Indeed, the obligation and free primary school, even if imperfectly implemented, have largely contributed to increasing the school enrollment rate, and even to keeping children in school a little longer depending on the means of the household.
In addition, even if many school careers in rural areas remain relatively short, the acquisition of some school knowledge is nevertheless valued, even essential to facilitate the assimilation of learning knowledge. It has thus become important for rural populations to have school basics so that, once this apprenticeship is finished, they can integrate a very changing job market and not suffer a social and professional downgrading in their new professions, where a basic knowledge of French and notions of mathematics can prove to be very useful. Ultimately, the gains – however meager – from education generate, for those who are in independent or informal professions, a distinction and added value precious.

Tonai Maryse Guedou, PhD student in Political and Social Sciences, Free University of Bruxelles (ULB)
This article is republished from The Conversation under Creative Commons license. Read theoriginal article.