In Benin, building one's own house is a major social achievement, in which those who have the means commit themselves with passion, each to the extent of their possibilities and ambitions.
Building and living "at home" are, in Benin as in many other African countries - from Togo to the Tanzania and Small au Botswana –, ambitions widely shared by all those who, from the working classes to the elites, manage to secure a minimum of stable and sufficient income to free up some savings.
Handcrafted construction is the norm here, with the owner hiring a mason and his team to build the house. Only the construction of a multi-storey building requires the intervention of qualified building technicians. Such projects basically concern only the elite and the upper fractions of the middle classes, concentrated in the large agglomerations such as Cotonou, Porto-Novo or Parakou, even if their presence is also visible elsewhere, through the few multi-storey houses and small buildings in more modest agglomerations.
In secondary towns and the countryside, and even on the outskirts of large cities, a clear majority of construction projects remain at ground floor level, and are negotiated between a self-promoting owner and a mason. The significant urban growth of the country, where official statistics now estimate that the half of the approximately 12 million Beninese live in cities, feeds largely on this self-construction dynamics in which everyone engages body and property. Depots of cement and building materials, but also housing sites, are moreover ubiquitous in a country literally under construction.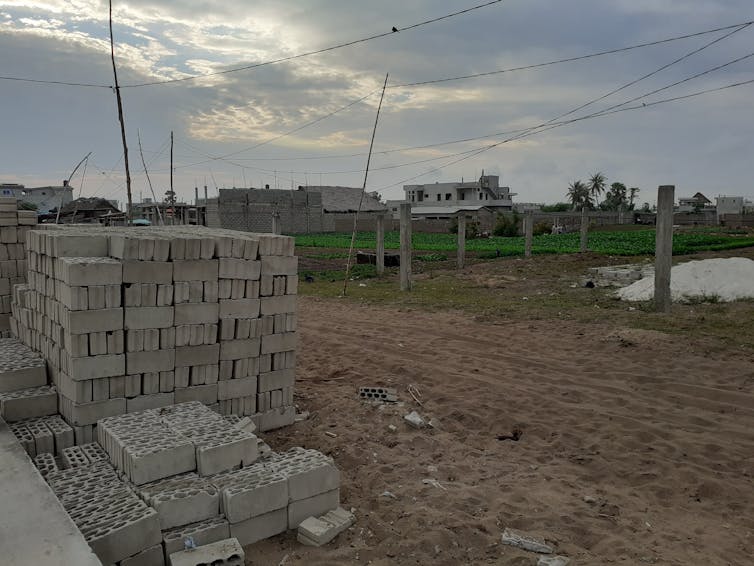 The challenges of this urban growth are multiple, and its delicate planning. But for the people mobilized by these projects, investment in construction and access to property are both a question of living conditions and subsequent possibilities of accumulation, and a question of fundamental social recognition.
The tortuous paths of construction
In July 2022, in Abomey, a small provincial town, I went to see Guy again (the first names have been changed), an old acquaintance I had known a dozen years ago. Well into his forties, he had been allocated a location on his father's plot about fifteen years ago, in order to build his own home there. A plumber by profession, he had enough income at the time to allow him a sufficient level of savings to engage in such a project, and so he set to work. He designed the plan for a building with four small bedrooms and a living room, and managed in a few years to raise the walls to the level where the framework would be placed.
[More than 80 readers trust The Conversation newsletter to better understand the world's major issues. Subscribe today]
In the early 2010s, his mother fell ill and his business began to decline, due, he says, to increased competition within the plumbing profession in the small provincial town where he lives, Abomey. In 2014, he decided to engage in training to become a teacher. A salaried job would guarantee him at least regular income. However, his current level of income no longer allows him to pursue his construction project.
Of the 60 CFA francs per month he earns (just over 000 euros) during the school year, he must first withdraw 90 francs to pay for the gas for his motorbike journeys to the village. where he was assigned, and the rest is entirely absorbed by the care required by his mother's condition - "it's ruining me", he slips -, the education of his two teenagers in a private school, and by household expenses, to which his wife, a sugar seller on the local market, contributes marginally. Guy still lives today in a building built by his father, which he shares with some of his brothers. For about ten years now, his house project has been on hold, and is slowly turning into the unfinished ruin of a broken dream...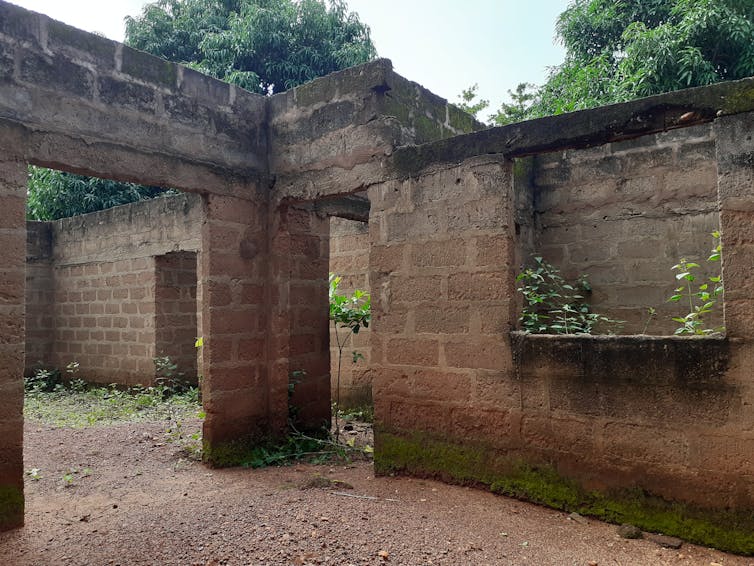 It is certainly in the working classes, where small independents, craftsmen, peasants and small employees rub shoulders, that the challenge of construction arises with the greatest acuity.
Among all the owners from modest backgrounds whom I have questioned for more than a year during my stays in Benin on the motivations and outlines of their construction projects, I hear stories highlighting the perseverance and deprivations that the building of a house, and the sometimes radical savings strategies they put in place to achieve this, sometimes devoting more than half of their income to their construction project at the time of the manufacture of the concrete blocks and the building of the walls.
Self-construction and realization
The stakes are high, commensurate with the investments made and the sacrifices made. The building of a house is a major accomplishment and a fundamental source of social recognition. The consecration, too, of a certain economic and statutory independence. In particular, in a society where it is readily repeated that "if you have nothing, you are nothing", building and living in one's "home" is an essential way of asserting oneself as a man.
Construction projects, in fact, are most often designed individually in a country where finances are still managed in a very widely separated within the couple. And even if we sometimes come across a couple who have pooled their resources to build together, it is first of all the men who have the duty to build the family home. Of course, women can also build their own house. This is even a sign of success to which executives and large traders in particular aspire, but also those who prove capable of freeing up savings, and whom broken or distended marital ties have made heads of households. Of a woman who has built, we can also say to underline her merit that she "acted like a man"...
The issue, however, is not of the same nature, and touches less directly on the accomplishment of a feminine ideal. Because as far as men are concerned, "he built", "he is at home", or on the contrary "he has never made a brick in his life", are so many ways in which the value can be reported on a daily basis. individuals and gauged their achievement of the masculine ideal. And the judgment is all the more severe on those who, employees or executives in the public service or in the private sector, have been in a position to build but have "achieved nothing", and whom the popular doxa then typically accuses of having squandered their money on the pleasures of women and parties...
This is how everyone invests in a house that can become a true staging of their success. In the upper strata of the population, large multi-storey houses are readily built, more and more often surrounded by perimeter walls surmounted by barbed wire, before competing in the quality of finishes and equipment, the play of lights from the ceiling lights the quality of the tiling, the comfort of the living room and the size of the flat screens.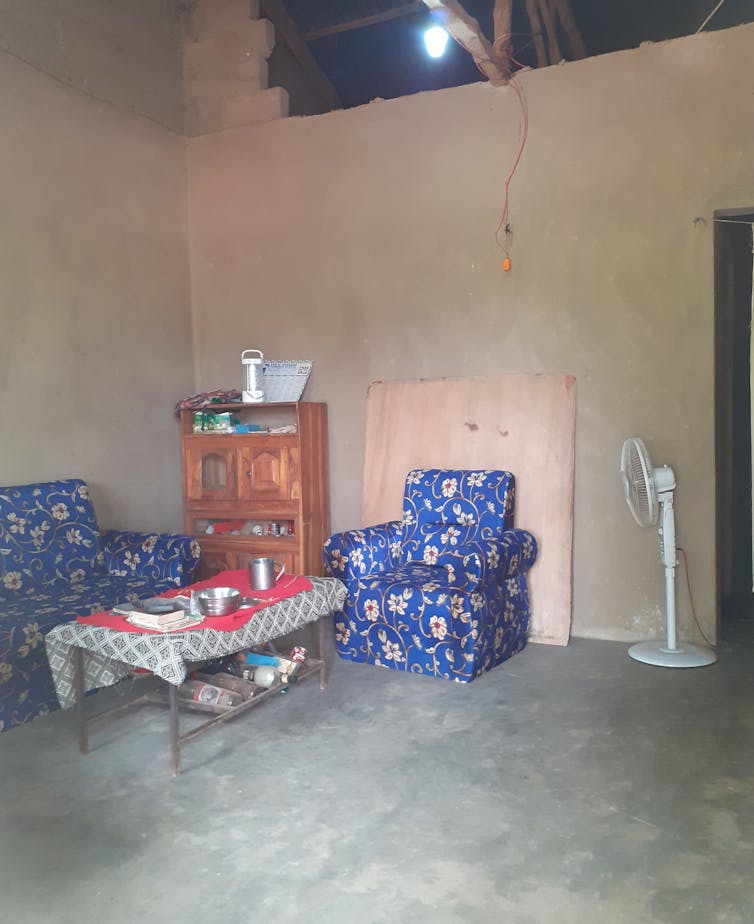 In working-class circles, aesthetic concerns take second place, but efforts are made to cap and then possibly paint the walls with concrete blocks, to install a false ceiling which will insulate a little from the heat of the sheet metal roof, and perhaps be later to tile the living room. The possession of a furnished living room and a television will complete what relatives, neighbors and friends will appreciate at its fair value as a great achievement. But the vagaries of existence and the unforeseen events of the best-planned routes will also take their toll on the projects undertaken, and a good number of constructions will ultimately remain at a more basic level of development...
Construction and Accumulation
The home, however, is not only a crucial place of social accomplishment, through which a subtle game of distinction between classes and fractions of classes is revealed. It can also become, particularly in working-class and middle-class circles, a no less crucial site of accumulation. A certain number of small landowners actually build other dwellings on their plots, with the intention of renting them out and drawing additional income from them, which may also become their "old-age insurance" once they have stopped working. work.
Christian is a mechanic now approaching his forties and also living in Abomey, whom I met in 2021 through a friend. In 2019, he sold his modest house to a neighbor who wanted to enlarge his own plot, realizing in the process a small capital gain which allowed him to build the house where he now lives.
His new construction is larger than the previous one, and the added value has also allowed him to build next to his own house a smaller dwelling, consisting of a bedroom and a living room, which he intends to rent. . Christian forces himself to save for a little more than half a million CFA francs per year (i.e. a little more than 800 euros), via rotating savings systems known in Africa as "tontines". Such a sum probably represents a little more than a third of its income. High on his agenda for the next few years is the construction of other homes of this type, with which he will share part of his yard, and which will gradually provide him with significant additional income.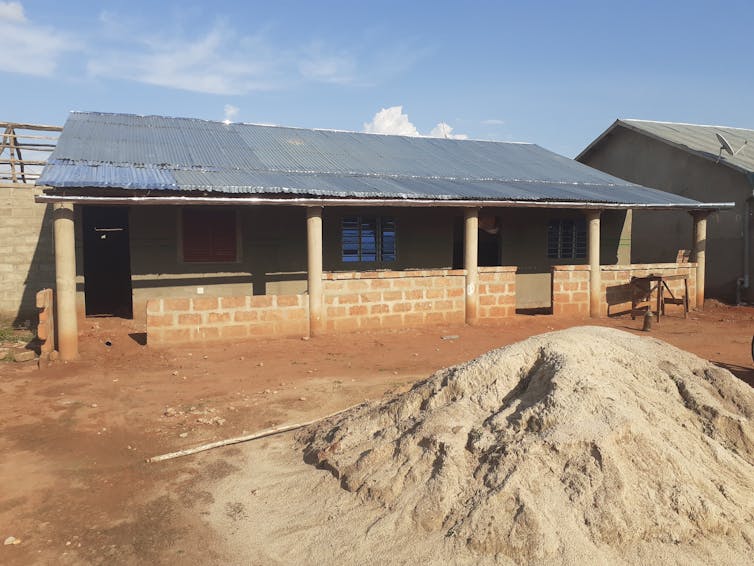 In the upper fractions of the middle classes and among the elites, people are willing to invest in the purchase of plots, for speculative purposes – demographic growth and urban growth are rapidly increasing the price of building land – or to build housing there intended for the rental. In the working classes and lower fractions of the middle classes, it is more the residential plot itself that welcomes these projects of accumulation and diversification of its sources of income.
In the end, in a Beninese society where construction proves to be a major social passion, the construction of a house constitutes a key moment in the stabilization of a social position and the realization of a form of self-realization. Between those who will have managed to build their own edifice and those who, for various reasons, will have failed, runs a double dividing line, which distinguishes one from the other both in the material order of the conditions of existence and in the symbolic order of social recognition. Placed at the heart of the investments and desires of large sections of the population, the construction of houses thus proves to be a privileged place for exploring the social relationships and aspirations that make up the dynamics of today's African society.

Joel Noret, Professor of anthropology, Free University of Bruxelles (ULB)
This article is republished from The Conversation under Creative Commons license. Read theoriginal article.