In Iran, five teenagers have been arrested and forced to apologize after taking part in a viral dance challenge inspired by a Nigerian singer and a Cameroonian dancer.
On March 8, 2023, five teenage girls uploaded a video of themselves performing the Calm Down Dance Challenge. This is the choreography of the first verse of the hit afrobeats Calm Down of the Nigerian singerRema (Divine Ikubor).
The girls were following the people around the world who made this dance challenge go viral for over a year by uploading videos of themselves dancing to the track. With one difference: they were dancing in Iran, where it is forbidden to dance in public, especially without the obligatory headscarf for women.
By March 10, the 40-second video had gained enough notoriety that the dancers were gathered by the authorities and obliged to publicly apologize. But the genie was out of the bottle. Their video is still circulating on social media.
This is the latest in a series of challenges to the Islamic Republic of Iran, which grew out of the death in custody of Mahsa Amini in September 2022. This Iranian had been arrested for refusing to wear the veil as prescribed.
Six months later, young Iranian girls protest always, but now through a song by an African singer and an African choreography.
A winning combination of music, movement and technology can make choreographies go viral. We saw it, for example, during the COVID pandemic with South African music and the Angolan choreography on the hit song Jerusalema by Master KG.
In popular culture, singers are known by name, but dancers go largely unrecognized. Who came up with the Calm Down dance, which went from microblogging stardom to joyful defiance of a notoriously repressive regime?
The choregraphy
On March 7, 2022, the now famous Calm Down choreography appeared for the first time on the TikTok account Loic Reyeltv. The author of the post is Cameroon-born, Montreal-based Loïc Ngumele Sipeyou, known professionally as Loïc Reyel. He is the founding director of the dance school Afro Vybz and, in the video, he dances with five students.
Their short choreography coordinates expressive gestures with footwork inspired by African street dance styles circulating around the world through teachers such as Loïc. think about cut shifted Ivorian shoki Nigerian at theazonto Ghanaian kuduro Angolan… These local responses to pan-African electronic music constantly combine with Caribbean and African American dance styles to recall and resist the traumas of slavery, colonialism and black body policing.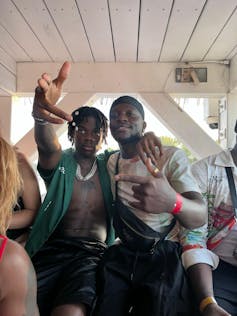 Loïc tapped into these resources to perform a song that had been released less than a month earlier on Rema's debut studio album. Rave and Roses.
In a telephone conversation with me, as part of my research on West African dance forms, Loïc described it as "a very easy song" with which he "just felt suite connected" and on which he could "really move".
As Calm Down began to top European charts, Loïc's kinetic response began to attract social media users worldwide. To date, her dance challenge video has garnered 215 likes and 000 shares.
Loïc's video is not only shared; many people of all ages and nationalities learn her dance steps, record their performances and upload them to social media. Of Pakistan au Kenya and now in Iran, solo, couple and group, in salwars and sweatpants, in sweatshirts and baseball caps, with or without hijab, the videos just keep coming in, as seen this tik tok compilation. A duo version remixed between Rema and American singer Selena Gomez gave the song a second peak in September 2022. Meanwhile, Loïc's dance challenge continues to captivate the world.
The song
This magic was born from Rema's voice. His melodic genius transforms the popular key of B major with a complex progression of agreements. THE lyrics mix the recognizable and the almost indecipherable. In the song, words and phrases like "vibes", "calm down" and "lockdown" meet the syntax and vocabulary of the pidgin Nigerian ("no dey do yanga") and Jamaican dancehall ("shawty"). The fizzy drink Fanta is transformed into an evocative image of desirability ("girl you sweet like Fanta-ooh"). The song pours out like chilled Fanta bubbling with the unforgettable "lo-lo-lo-lo-ve-ve-ve-ve-ve-ve". His laid-back approach decolonizes the English language, freeing it for the world to use.
La official video de Rema enhanced the song's appeal by illustrating its history. His pursuit of a "sexy yet humble" girl in her yellow dress draws viewers into the interiors and cityscapes of Africa. The plot is universal: a couple struggling to emerge from a group. Loïc's choreography highlights this story. Hand gestures bring out the meanings swirling around the words. At the same time, the legs, the waist and the pelvis tell another story: the transformation of African kinetic codes (movements) into street dance styles that have become the weapon of young people left behind on the Afro-Atlantic rim.
Dance of joy
Loic said:
No matter what our people have been through in the past, we are still able to dance with joy.
THEalegropolitics of the body – its ability to activate memories of pleasure and trauma by creolizing (bringing together) multiple cultural elements – characterizes both Rema's song and Loïc's choreography. This reinforces their interaction and, in Loïc's words, the "incredible success" of the dance challenge. This unstoppable popularity illustrates what ethnomusicologist Elina Djebbari calls the videochoreomorphosis : the processes by which dance, which uses the body, retains its meaning in the digital age thanks to the innovative interaction of dancers with the format of music videos.
Responding to Loïc's challenge, Iranian girls remake themselves through video. Flamboyantly rejecting cultural isolation in favor of a kinetic cosmopolitanism, they fit into a dynamic global culture as active contributors. They perfectly reproduce the sometimes delicate choreography and add a special final note: a spectacular shimmy of the buttocks. It runs counter to Islamic-influenced feminine codes of propriety, but draws inspiration from"sacred ontology of twerking" in the African cultures of the movement.
Dream together for freedom
"Dance is freedom," says Loïc, while acknowledging that these culturally coded movements are often misinterpreted by non-Africans, who see them as sexualized. Iranian girls see the power of this ambivalence. Looking back while fidgeting, and ending with a blazing kick towards the goal in classic afrobeat style, they upend the status quo.
They dance in the huge urban jungle of Ekbatan, a real estate project built in Tehran in the 1970s. Amid the brutal concrete, hopes bloom through unpredictable confederations.
Rema recently sent a message in response to the video of the five girls:
To all the beautiful women who fight for a better world, I am inspired by you, I sing for you and I dream with you.
For Loïc, meanwhile, Iranian dancers have confirmed the meaning he gives to his life: "changing the world through African dance. I'm getting closer to my goal.
With thanks from Loïc Reyel, Francesca Negro and Elina Djebbari.
Ananya Jahanara Kabir, Professor of English Literature, King's College London
This article is republished from The Conversation under Creative Commons license. Read theoriginal article.