The Beninese Angélique Kidjo has a remarkable cultural vision known throughout the world but remains faithful to her roots. She is applying today for a sixth Grammy Award.
Angélique Kidjo, the energetic singer-songwriter and activist from the Republic of Benin, represents a rare African phenomenon.
In many ways, she belongs to the illustrious musical line of "Mama Africa", like Miriam Makeba, Letta mbulu et Yvonne Chaka Chaka from South Africa, Cesaria Evora Cape Verde and Oumou Sangare of Mali.
These great female personalities are distinguished by their royal appearance, a great sense of responsibility in sharing the cultural heritage of Africa and the protection of the dignity of African women. They do not always express this vision of the political and aesthetic world in so many words, but the way they are worn says a lot.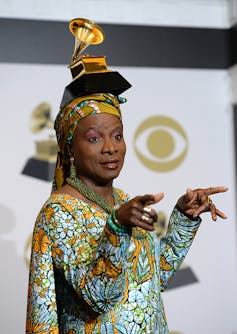 The Mama Africa could be defined by the strength of their voice, their rich and colorful cultural pedigree and their duty to preserve what has been handed down to them through centuries of toil, conflict and creative resilience.
Kidjo's notoriety continues to grow around the world, especially during Grammy Awards season. Nominated for Grammy Awards in the United States 14 times since 1995, it won its first award in 2008, followed by Best World Music Album in 2015, 2016, 2020 and 2022 (when the title was changed to Best World Music Album).
His five Grammys equal the record of the a capella group isiZulu from South Africa Ladysmith Black Mambazo.
Kidjo is on course to take home more awards in 2023 for Best World Music Album and Best Song Written for Visual Media for the film. The Woman King. His album, a collaboration with the Franco-Lebanese trumpeter Ibrahim Maalouf, is called Queen of Sheba.
Cup
This 62-year-old West African pop star has performed with music stars such as Quincy Jones, Buddy Guy, Mavis Staples ou Chaka Khan. His first album Parakou was released in 1990, but it needed its tube Cup to take over the world and galvanize dance floors around the world in 1994.
In the Yoruba language, "agolo" refers to the metaphysical meaning of time, a cyclical phenomenon that combines life and death – life being a gift to be cherished and lived wisely. Agolo was a fervent scream of catharsis from the bowels of Africa, carrying whole swathes of history, pain and challenge. He shook souls and moved feet with his rhythmic sense of exaltation and liberation.
In the video, there's an androgynous energy around the close-cropped hair performer. A suggestion that she is possessed by the tireless stamina of a true queen like Nzinga from Angola, Yaa Asantewaa of the former Gold Coast (now Ghana) or Amina of the Hausa kingdom of Zazzau. They had to lead men into war, often with great success.
However, Kidjo, like his Mama Africa comrades, does not carry the weapons to register on the global web of cultural production, which is as competitive as any other. She hails from the territory of the controversial Agoodjies, the Amazons of Dahomey. During the colonial era, they served as the king's private army and dominated the slave trade in present-day Benin and its surroundings. The Hollywood movie The Woman King revived attention to questions of their female power and mixed energies.
It is wrong to consider femininity in a simplistic or one-dimensional way. It is both multiple and diverse and Kidjo seems to have been nourished by this fundamental philosophy.
Ferocity
A multi-genre artist, Kidjo sings traditional Beninese folk songs, deep blues, fervent West African R&B, hard rock and urban club bangers in multiple languages, with Fon, Yoruba, French and English being his primary modes. of expression.
In person, Kidjo is lively and compact. She radiates fierceness. At a pre-Grammy concert, she once galvanized an entire room of music executives and specialists. "It's too sleepy for me," she said, jumping off the stage and walking into the audience, guided by her confident voice.
Her singing isn't dreamy or silky like that of a fake, over-sexualized diva. Rather, it acts as a visceral affirmation of visibility, justice and freedom.
She's frank in his belief that all music comes from Africa and was carried with it by enslaved people. That Africa represents the heart of the blues and the many musical forms it influenced and that its descendants spread it around the world, bringing with it joy, enlightenment and upliftment.
Spirituality
Some Kidjo songs celebrate ancient forms of African spirituality. Benin is renowned for being an epicenter of spirituality, particularly through Voodoo, a polytheistic belief that serves multiple deities and emphasizes the connections and continuities between female and male, nature and divinity, life and death, ancestors and the living.
In this, Kidjo's aesthetic project seems unmistakably political, much in the same way as Makeba's did. But, rather than directly attacking established political institutions such as the United Nations to bring about social change, as has Makeba, Kidjo aims for a revolution of the mind and soul. This is the kind of approach you would expect from someone born and raised in the land of the loas, a pantheon of deities including Legba, god of crossroads, among others.
Kidjo is also knowledgeable about the ifa spirituality of the Yoruba people, to which his mother belongs – some of whom live in Benin.
When we think of Kidjo, we are struck by the remarkable strength, depth and breadth of his creative vision – in addition, of course, to his magnetic and majestic presence. It is no surprise that she is currently the African singer who has won the most Grammy Awards and has a growing fan base all over the world.

Sanya Osha, Senior Research Fellow, Institute for Humanities in Africa, University of Cape Town
This article is republished from The Conversation under Creative Commons license. Read theoriginal article.